🎁 Christmas Sale Prices. Ends Tonight!
Regular price
$119.00
Sale price
$69.00
Unit price
per
Save

$50.00
Sold out
Out of stock
Free shipping & free returns*

Arrives 6-12 days*
90-Day Money-Back Guarantee

Paparazzo's mission is to create high quality equipment, that is simple to use and empowers you to create better content.

Try at home & if not 100% happy use our 90-day hassle-free returns guarantee.

For full details, please read our returns policy here.
6 Month Warranty

6 Month Warranty

All Paparazzo products come with a 6-month warranty. To claim, please contact us at support@heypaparazzo.com.

Our warranty guarantees that all items will be free from material and engineering defects and work as advertised.
A defect is defined as an imperfection or flaw produced during manufacturing, including surface defects and wireless charging functionality.
Exclusions: The warranty does not extend to damage from abuse or on purpose, normal wear and tear, alterations, or misuse, cosmetic damage that does not affect functionality (such as scratches or fading logos).
The warranty is non-transferable and only covers the original end-user purchaser. Paparazzo will only authorize the warranty claim if the product was purchased from our official store.
Customers must provide a valid order number and matching email address to make a claim.
Customers will be required to send video evidence of the defect in order to make a claim. 
A replacement product or a similar product (if the previous version has been discontinued) will be sent once the warranty claim has been accepted.

 

USA Extended Warranties

Paparazzo + Covered by Clyde

Extended warranties are available for US customers through our partner Clyde. Extended warranties can be purchased on the cart page if available.

More information can be found here.

Paparazzo has partnered with Clyde to provide hassle-free, peace-of-mind protection for the creative tools you love.

We all know that bad things can happen which is why we've partnered with Clyde to offer additional coverage. Pay one flat rate at checkout and Clyde will work directly with us to get your product repaired or replaced.

Clyde protects your equipment with a simple, affordable extended protection plan – so your products are covered, even after the manufacturer's 6 month warranty expires.

All of Clydes protection plans include cover accidental damage so you can be more creative with less stress. They also come with a Power Surge coverage for extra peace of mind. 

How do I purchase a Protection Plan?

If a protection plan is available for the products you wish to purchase, it can be added anytime inside the cart before checking out. We will also send an email reminder when your manufactures warranty is due to expire, to offer the chance to extend your warranty with Clyde.
View full details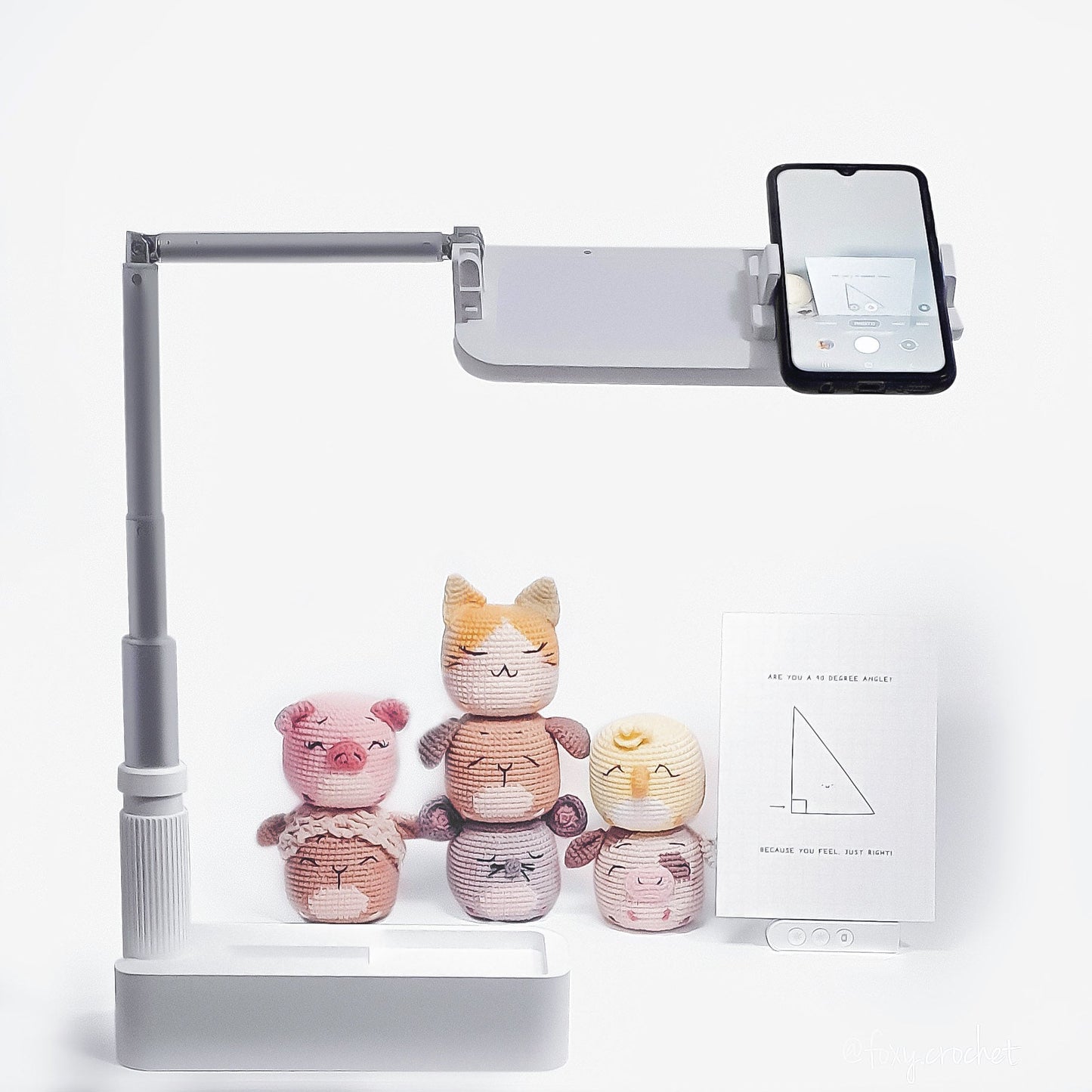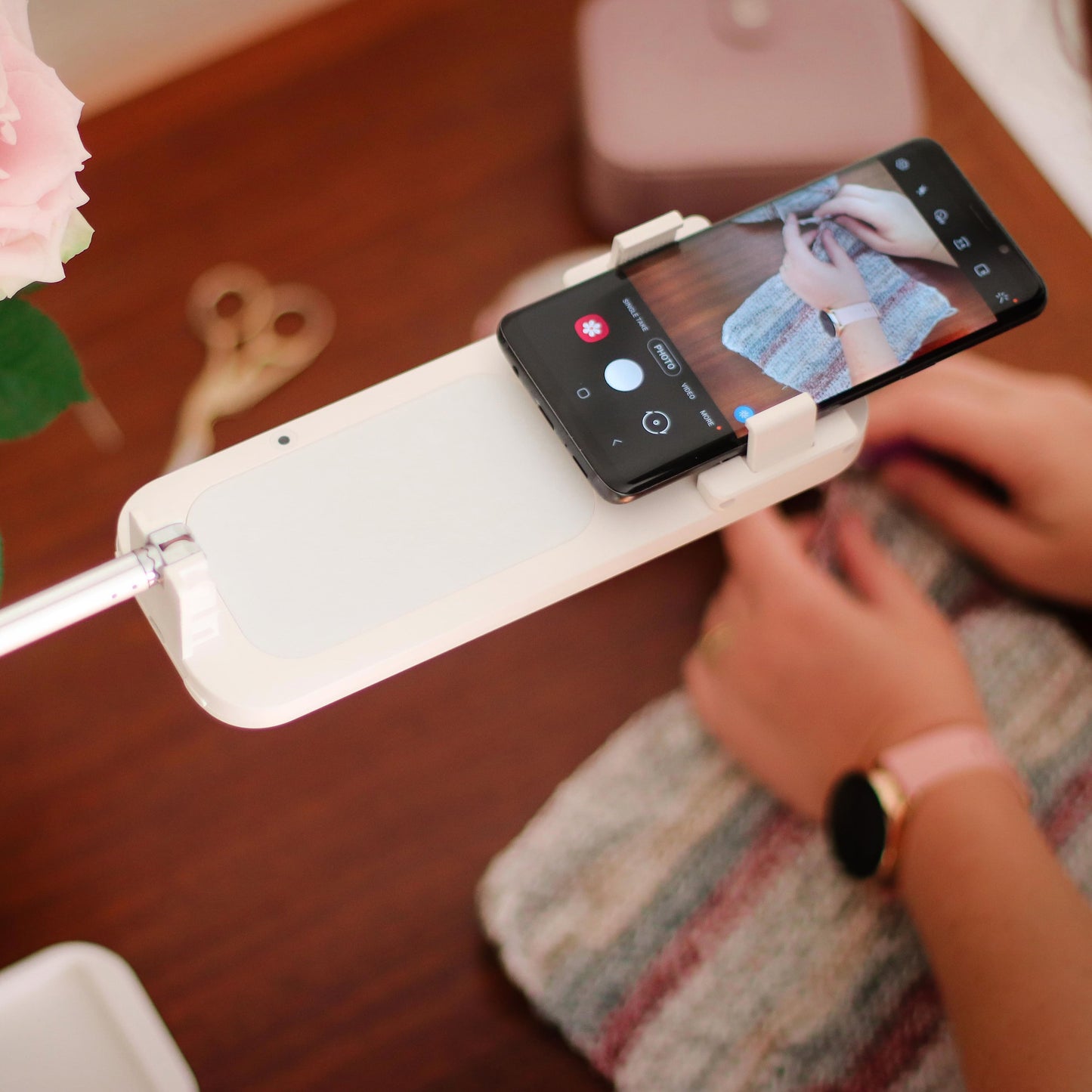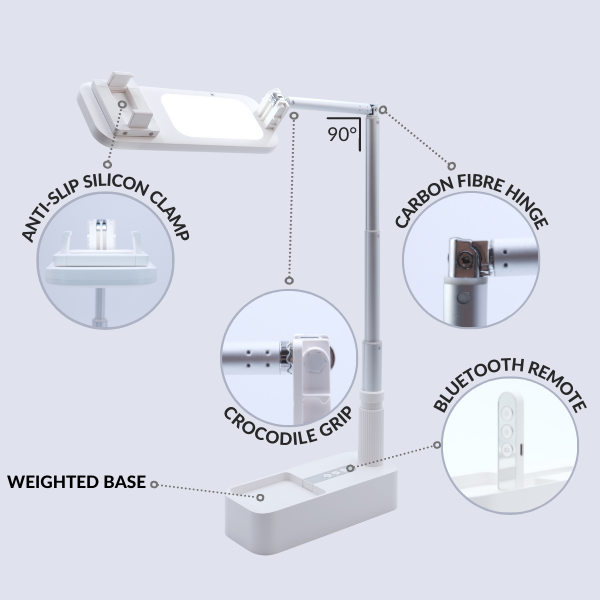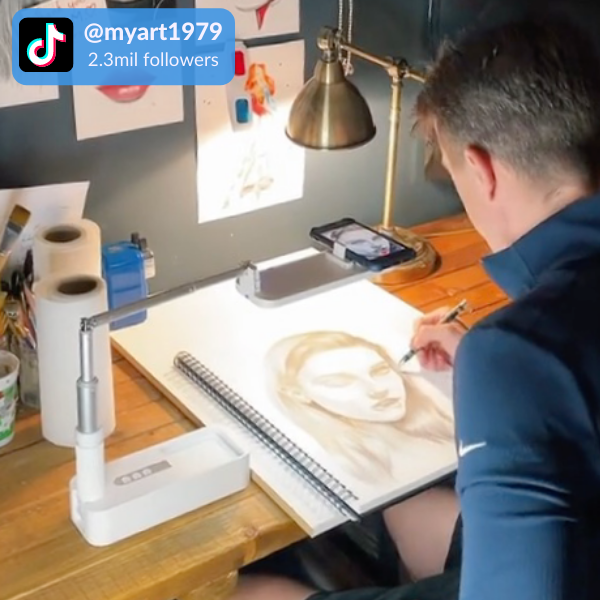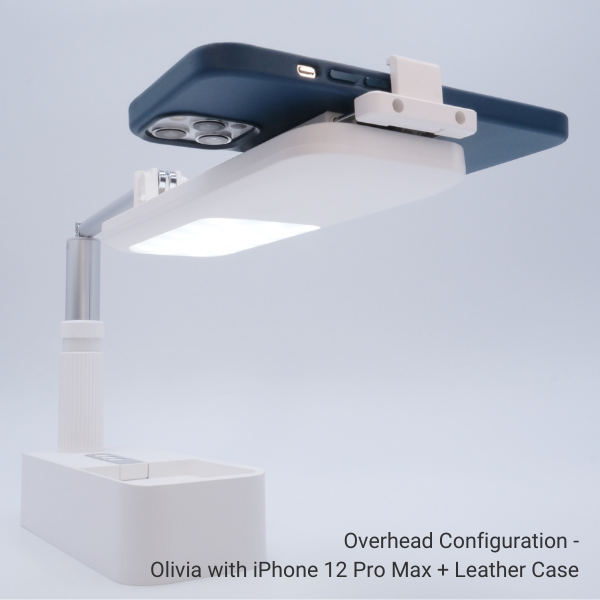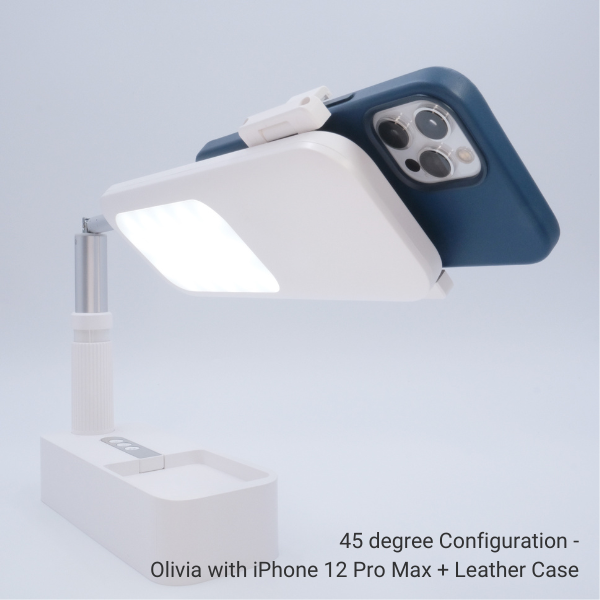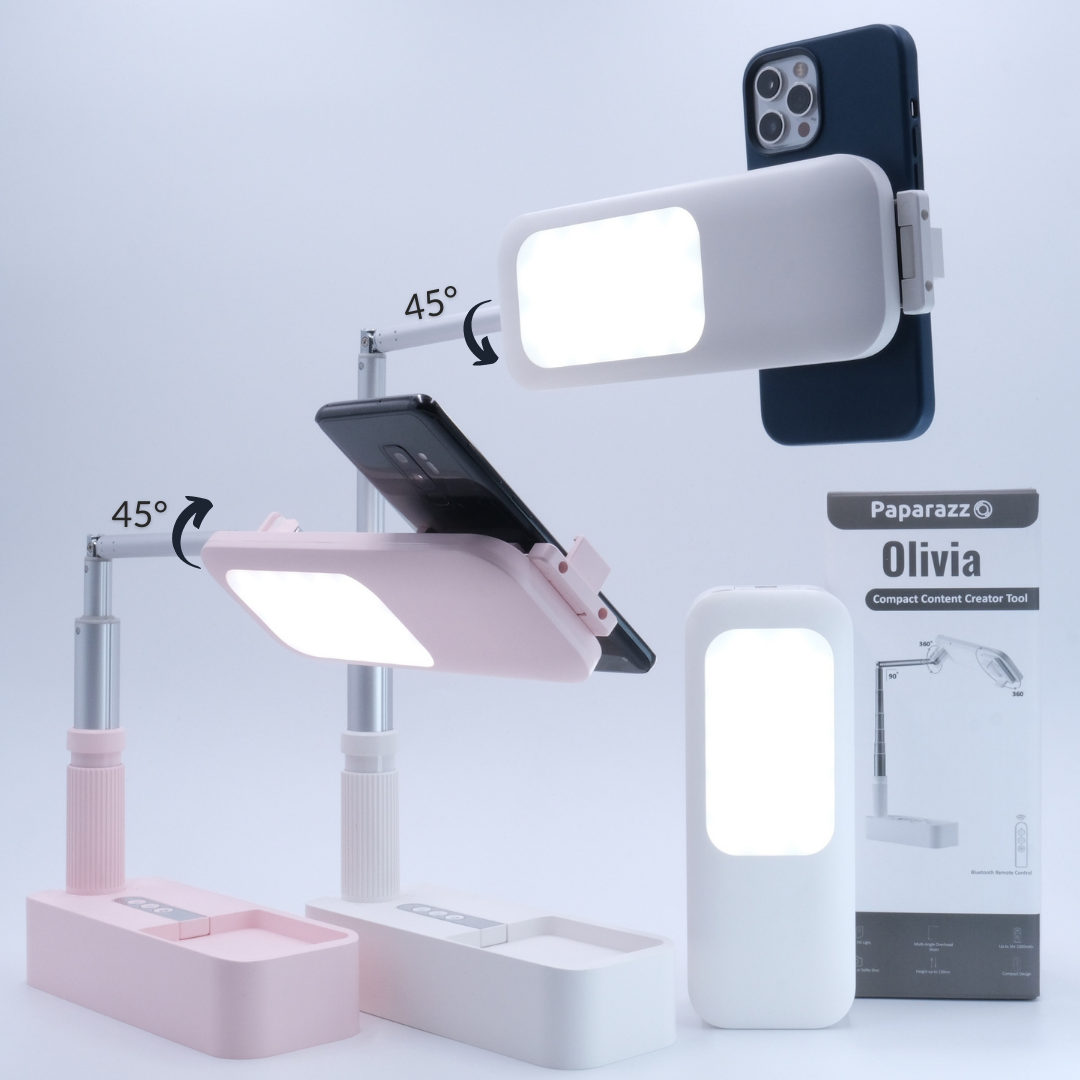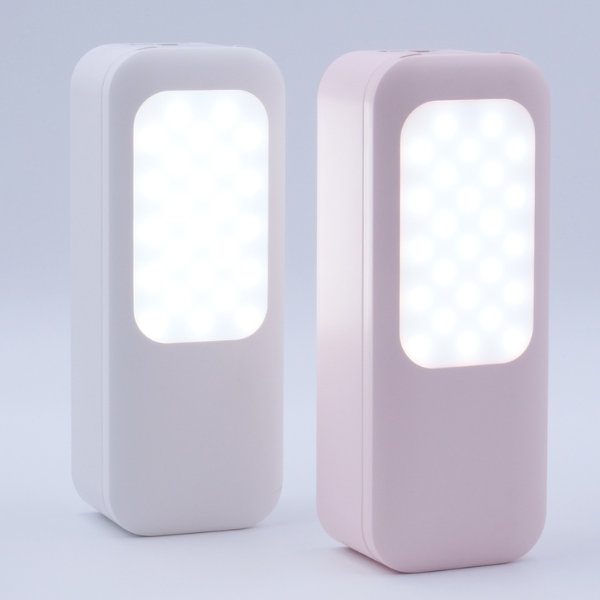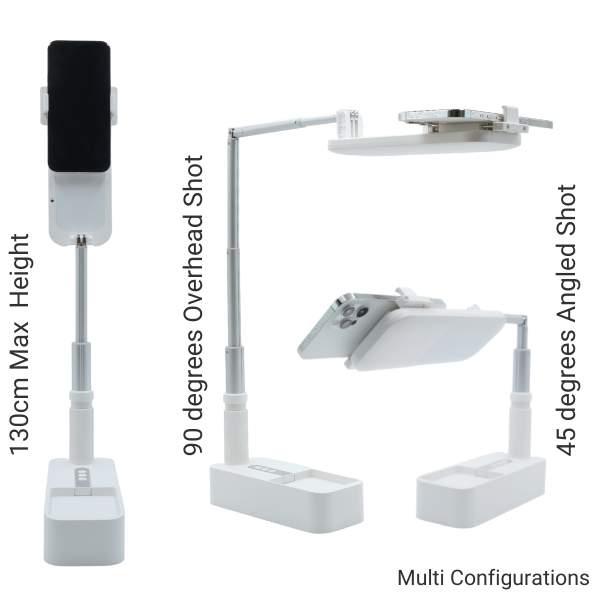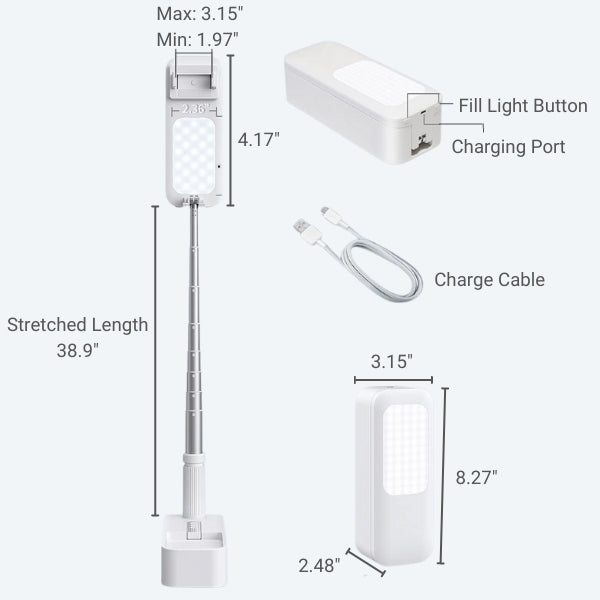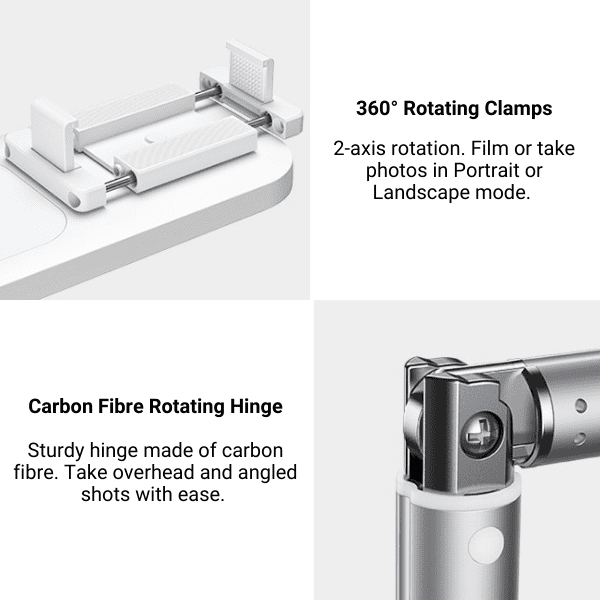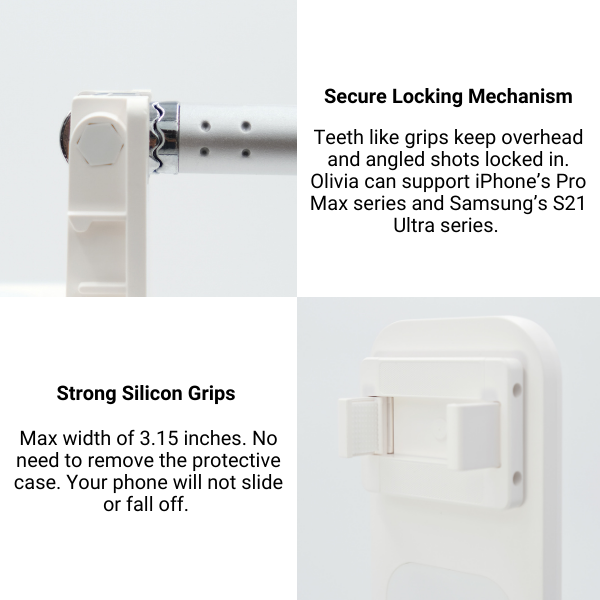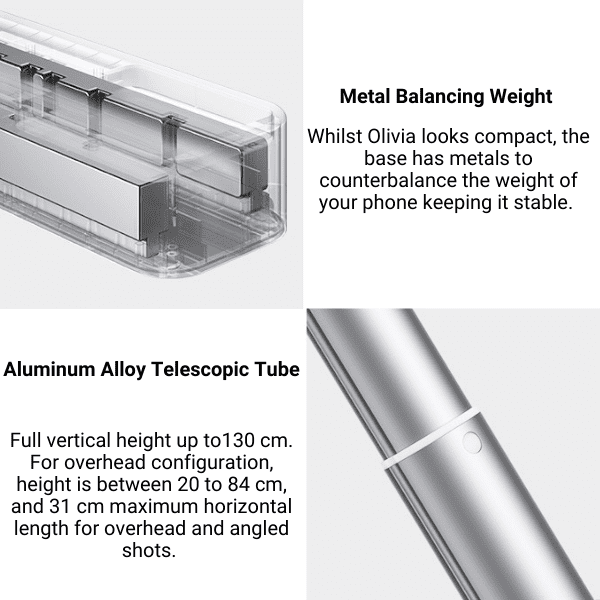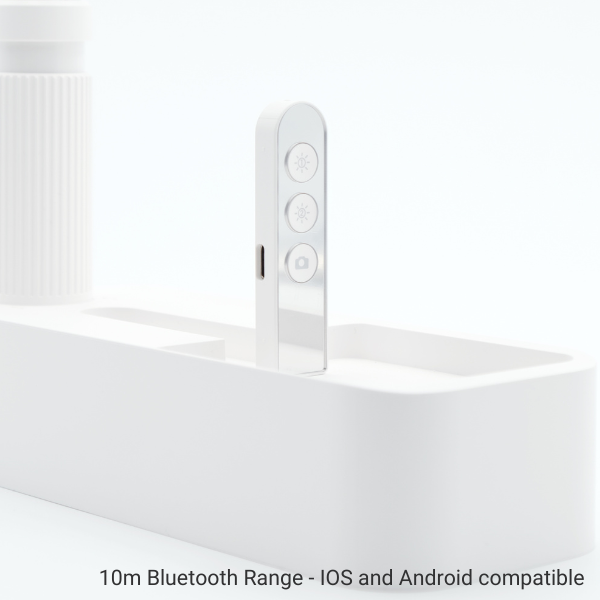 Product Details
Features & Details

✔︎ Supports any phone (see photos for iPhone Pro Max shots) with easy overhead shots and multi-angle filming with 360 tilt and rotation. Great for cooking, arts and crafts videos or photos.

✔︎ 7 light modes & 3 colour temperatures - Panoramic double-sided, 100 led lamp set-up. Power: 3.8v 1000mAh.

✔︎ Completely wireless set-up with Bluetooth remote. Say goodbye to bulky ring lights, overhead phone stands, wires and clamps.
FAQ

➤ What phones can be supported by Olivia?
✔︎ Olivia, whilst very compact, has substantial weight to support big phones including the new releases. The base houses the battery and metal weights which act as the counterweight. The max weight it can support is 350-400 grams but we obviously do not recommend exceeding this. Your iPhone 12 and 13 Pro Max or Samsung 20 and 21 Ultra series, just to name a few, will be supported.

➤ My phone has a case - can Olivia support it?
✔︎ Olivia can support phones with cases up to 3.15 inches. New phone releases are supported e.g. iPhone 12 and 13 Pro Max and Samsung S20 and S21 Ultra. Olivia's phone clamps have silicon grips so your phone will not slide or fall out.

➤ What are Olivia's minimum and maximum height when used in overhead or 45 degrees configuration?
✔︎ The minimum is 20cm and the maximum is 83cm. Most crafters, artists and business owners' needs will be met as the range is between 20 to 83cm giving you a lot of flexibility in height.

➤ What is the lifespan and CRI of the LED light?
✔︎ The lights have a lifespan of 50,000 hours. Enough to last a lifetime. The CRI rating is 80.

➤ How far can the pole extend in the 90 degrees position for flat lay filming?
✔︎ The pole can be extended up to 42cm horizontally from the main pole when in the 90°/ overhead or 45° configuration.

➤ Do you know if this will hold an iPad?
✔︎ It will not hold an iPad with the supplied Cell Phone mounts.

➤ What charger does Olivia use?
✔︎ Olivia comes with a C type charger connected to the power source using a USB plug.
Tech Spec

➤ Size: 210x80x63mm
➤ Extended Height: 40-126cm
➤ Product Weight(g): 1316g (please note)
➤ Load Capacity(kg): 2.5kg
➤ Material: Aluminum Alloy, ABS
➤ LED Light: 3.8v 1000mAh
➤ Light CRI: 80
Everyone Can Create Amazing Videos Without A Complex Set-Up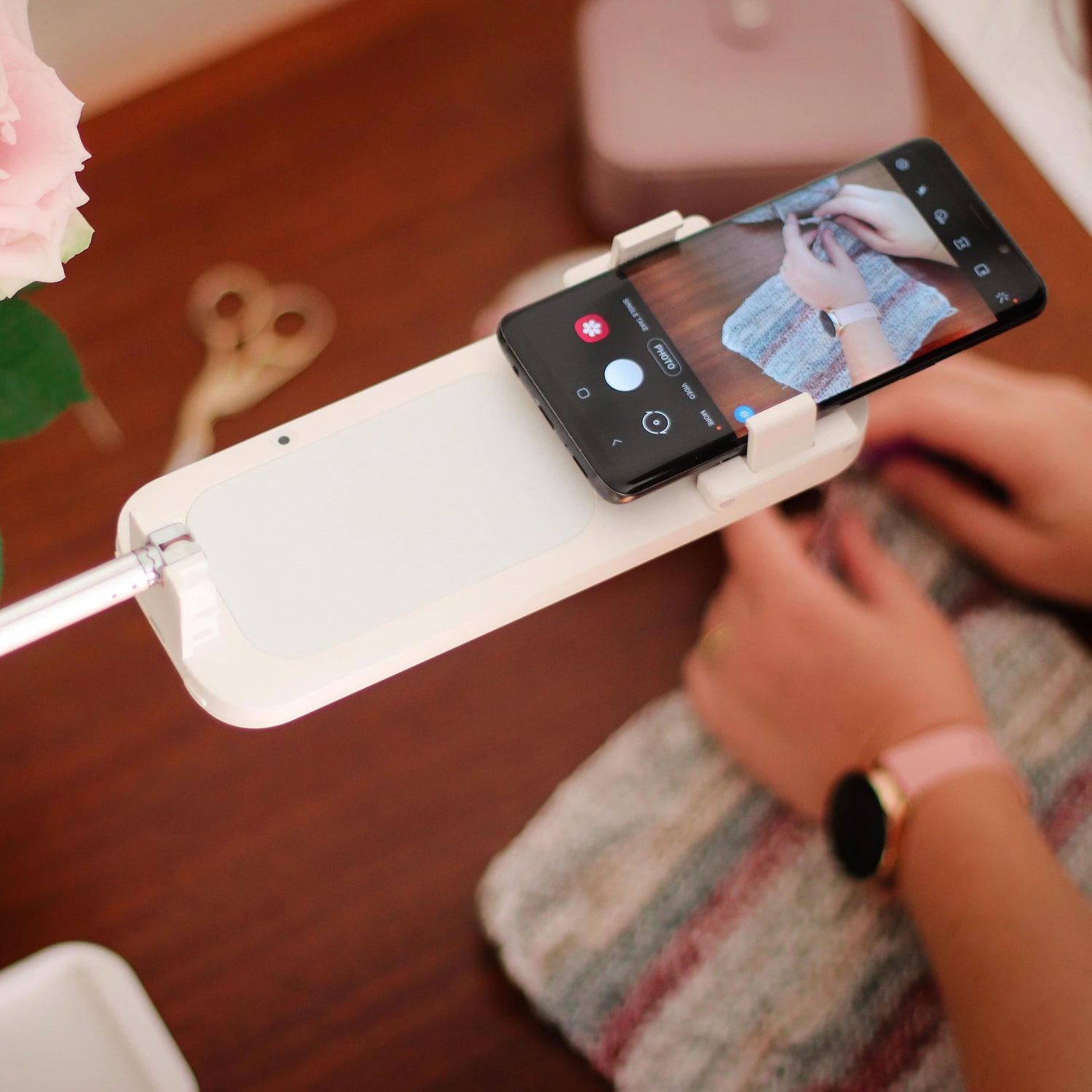 Capture A Perfectly Lit Video Of Your Creativity
Filming and creating content can be over whelming and expensive with time consuming, complex set-ups and post production edits.
Good news - your life is about to get easier with Olivia.
A Compact, Minimal Vibe
A innovation like no other tripod. Olivia fits perfectly in your creative space taking up little room so you can focus on your creativity.
Capturing your creativity has never been this convenient
We know the struggle and set-up stress especially for social media. Olivia makes videos hassle free, less expensive and is ready to record anytime and anywhere.
The Before

Time consuming, stressful, and shakey videos.


Bulky, complicated set-ups


Unsightly wires, not portable


Poor quality, unable to see what you film


The After

Simple, super quick and perfectly shot videos!


Multifuction, unlimited angles


High quality, still camera shots

Set-up a stable filming environment at any angle in under 5 seconds
✔︎ The perfect flat lay every time at 0 degrees.

✔︎ Multi angle shots with 360 rotation and configurations.

✔︎ Strong silicon grips to keep your phone safe and scratch-free.

✔︎ Setup in seconds with the rotate and lock mechanism.

✔︎ 20-130cm (7.87 inches to 51.18 inches) height adjustment with 8 different settings.

✔︎ Height range in flat lay configuration is 20cm (7.87 inches) to 84cm (33.1 inches).

✔︎ Warm, cool and warm & cool colour temperatures give you multiple lighting options.

✔︎ Wireless charge lasts up to 3 hours with a 1000mAh battery.

✔︎ Smaller than your lunch box (21 x 8.1 x 6.3cm). Fits in your bag.
Join the 10,000+ creatives that love Olivia
#1 compact content creation tool for creatives and small businesses
@warrillow_studio

✭✭✭✭✭

"I love the way I know it's not going to slip, slide or move when filming. It's so reliable, I can concentrate on what i'm doing knowing it will work first time. It's perfect."

@shishaeva_art

✭✭✭✭✭

"Super effective! I used to try all kinds of funny set-ups with tripods to get the overhead shots, but this has really made it simple. I don't stress anymore, can set it up in seconds and it takes up little space on my desk."

@artypants_ap

✭✭✭✭✭

"I was afraid this was going to be just another tripod that don't really do the job the way I need it to be done. Well, to my delight, that is not the case - this stand and light combo with the phone holder is amazing."

@darrenwallaceart

✭✭✭✭✭

"The design is absolutely amazing!! Olivia goes from so many different angles for filming it's unreal. I am very impressed and use it for all my drawings now."
WHY BUY FROM US?
✔︎ Stronger than the competition with 2 colours to choose from. Compatible with ALL phones. 
✔︎ 100% satisfaction guarantee or your money back. Please contact us for return requests.
✔︎ Orders are dispatched within 24hrs from our own warehouse.
✔︎ Highest quality materials that are built to last.
✔︎ Owned and created by content creators so you get great customer support.