Regular price
$69.00
Sale price
$69.00
Unit price
per
Save

$0.00
Sold out
Tired of sounding like an echo chamber in your videos or using your headphones so you can get good-quality audio? Upgrade your audio quality and stand out on your future video content. 
Free shipping to 100+ countries

Arrives 6-12 days*
90-Day Money-Back Guarantee

Paparazzo's mission is to create high quality equipment, that is simple to use and empowers you to create better content.

Try at home & if not 100% happy use our 90-day hassle-free returns guarantee.

For full details, please read our returns policy here.
6 Month Warranty

6 Month Warranty

All Paparazzo products come with a 6-month warranty. To claim, please contact us at support@heypaparazzo.com.

Our warranty guarantees that all items will be free from material and engineering defects and work as advertised.
A defect is defined as an imperfection or flaw produced during manufacturing, including surface defects and wireless charging functionality.
Exclusions: The warranty does not extend to damage from abuse or on purpose, normal wear and tear, alterations, or misuse, cosmetic damage that does not affect functionality (such as scratches or fading logos).
The warranty is non-transferable and only covers the original end-user purchaser. Paparazzo will only authorize the warranty claim if the product was purchased from our official store.
Customers must provide a valid order number and matching email address to make a claim.
Customers will be required to send video evidence of the defect in order to make a claim. 
A replacement product or a similar product (if the previous version has been discontinued) will be sent once the warranty claim has been accepted.

 

USA Extended Warranties

Paparazzo + Covered by Clyde

Extended warranties are available for US customers through our partner Clyde. Extended warranties can be purchased on the cart page if available.

More information can be found here.

Paparazzo has partnered with Clyde to provide hassle-free, peace-of-mind protection for the creative tools you love.

We all know that bad things can happen which is why we've partnered with Clyde to offer additional coverage. Pay one flat rate at checkout and Clyde will work directly with us to get your product repaired or replaced.

Clyde protects your equipment with a simple, affordable extended protection plan – so your products are covered, even after the manufacturer's 6 month warranty expires.

All of Clydes protection plans include cover accidental damage so you can be more creative with less stress. They also come with a Power Surge coverage for extra peace of mind. 

How do I purchase a Protection Plan?

If a protection plan is available for the products you wish to purchase, it can be added anytime inside the cart before checking out. We will also send an email reminder when your manufactures warranty is due to expire, to offer the chance to extend your warranty with Clyde.
View full details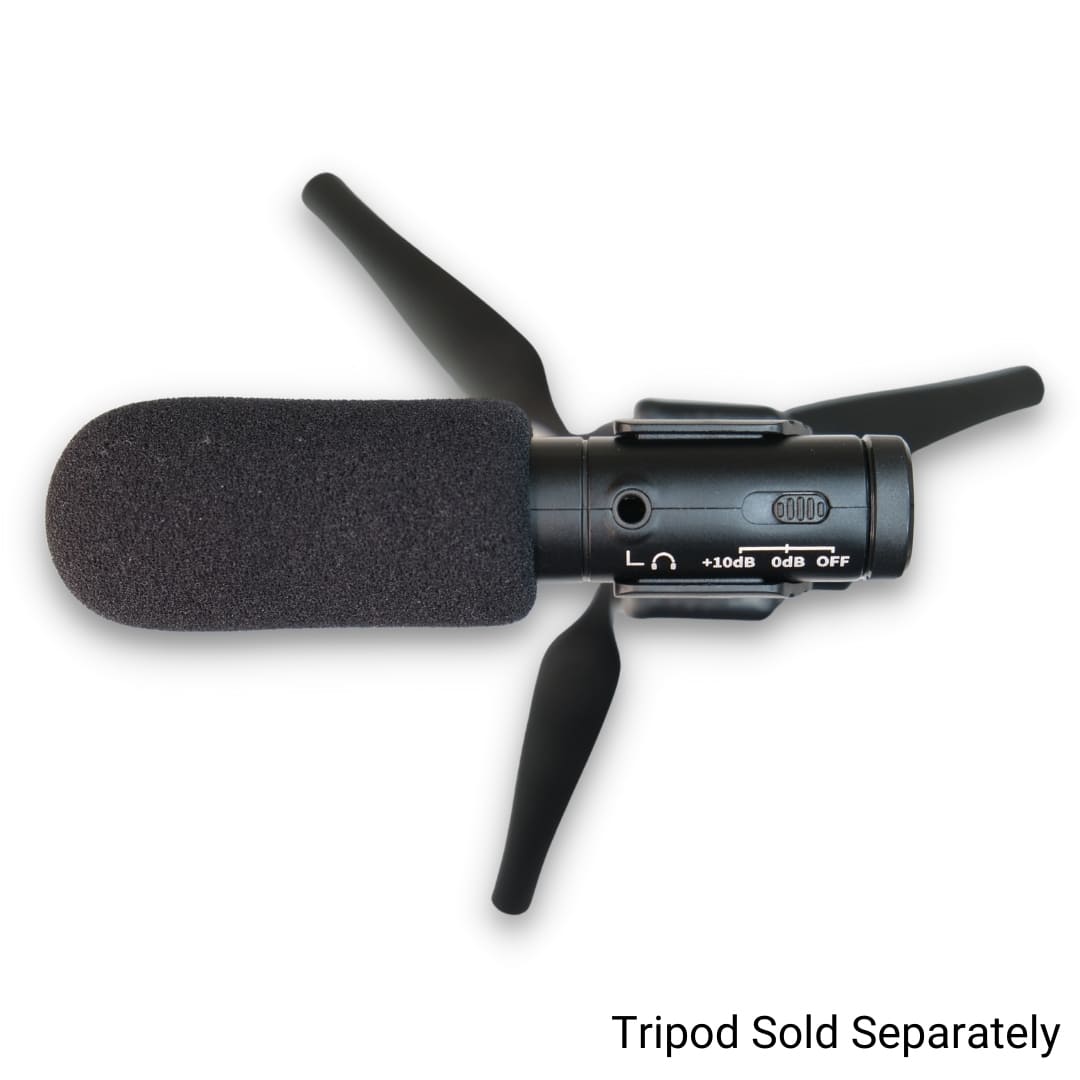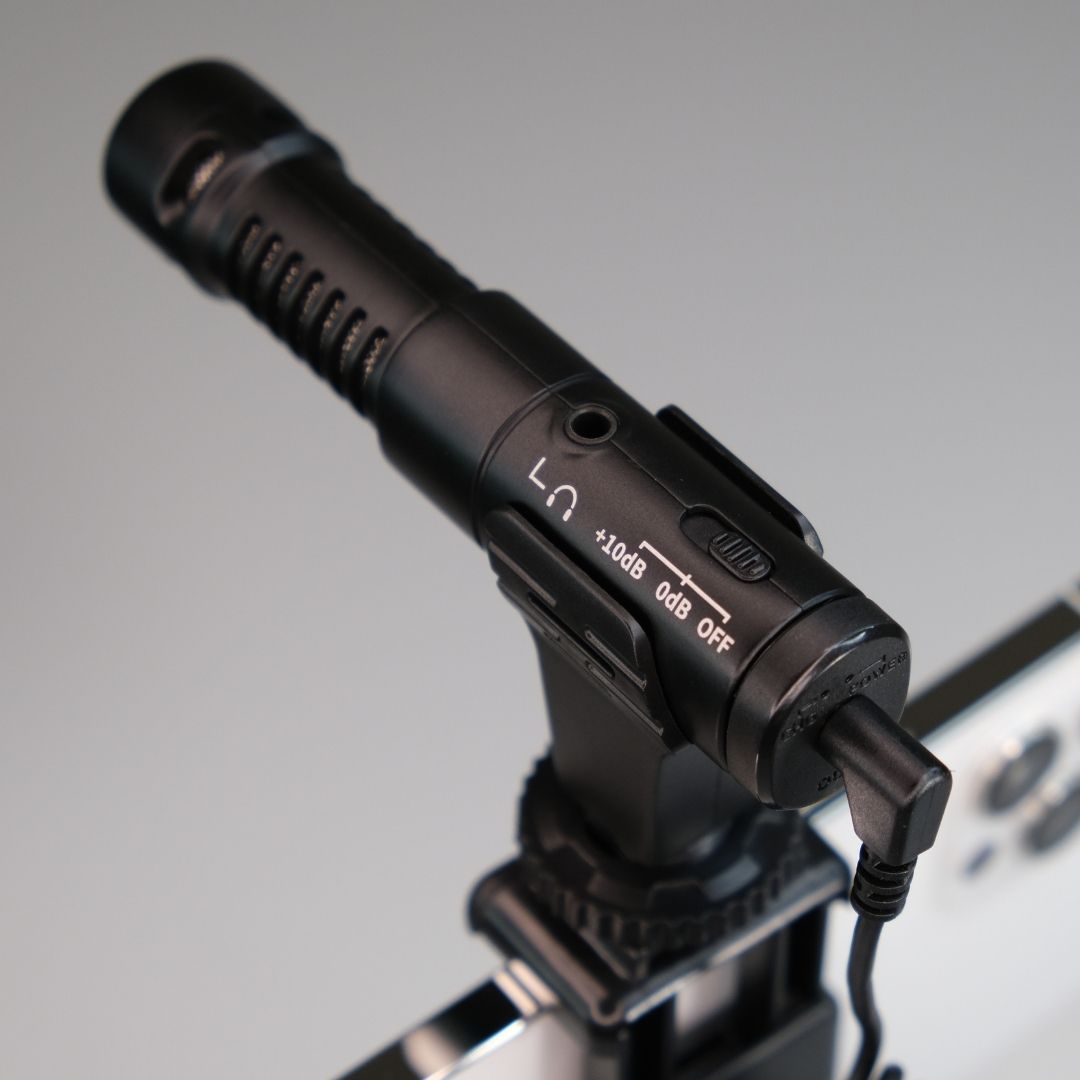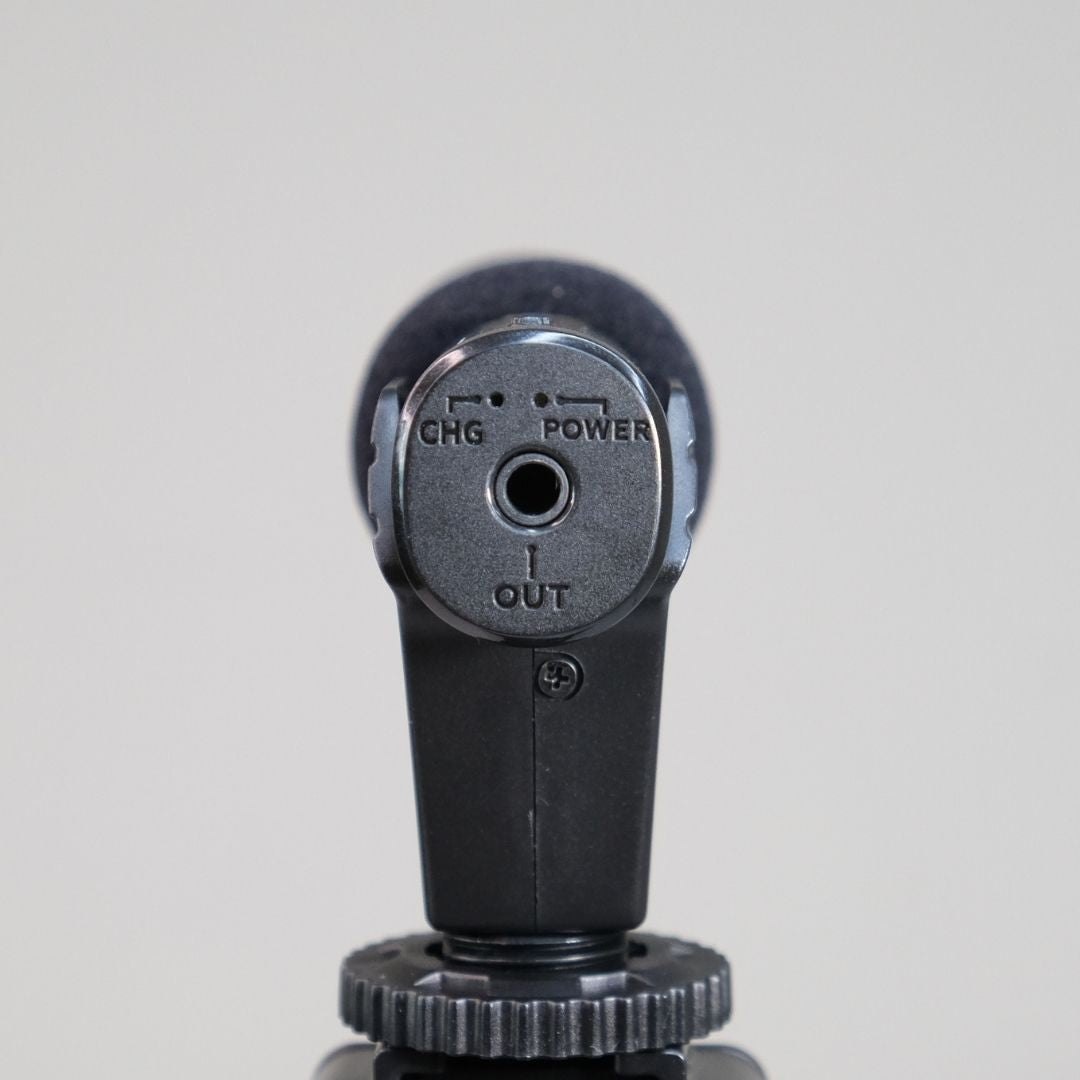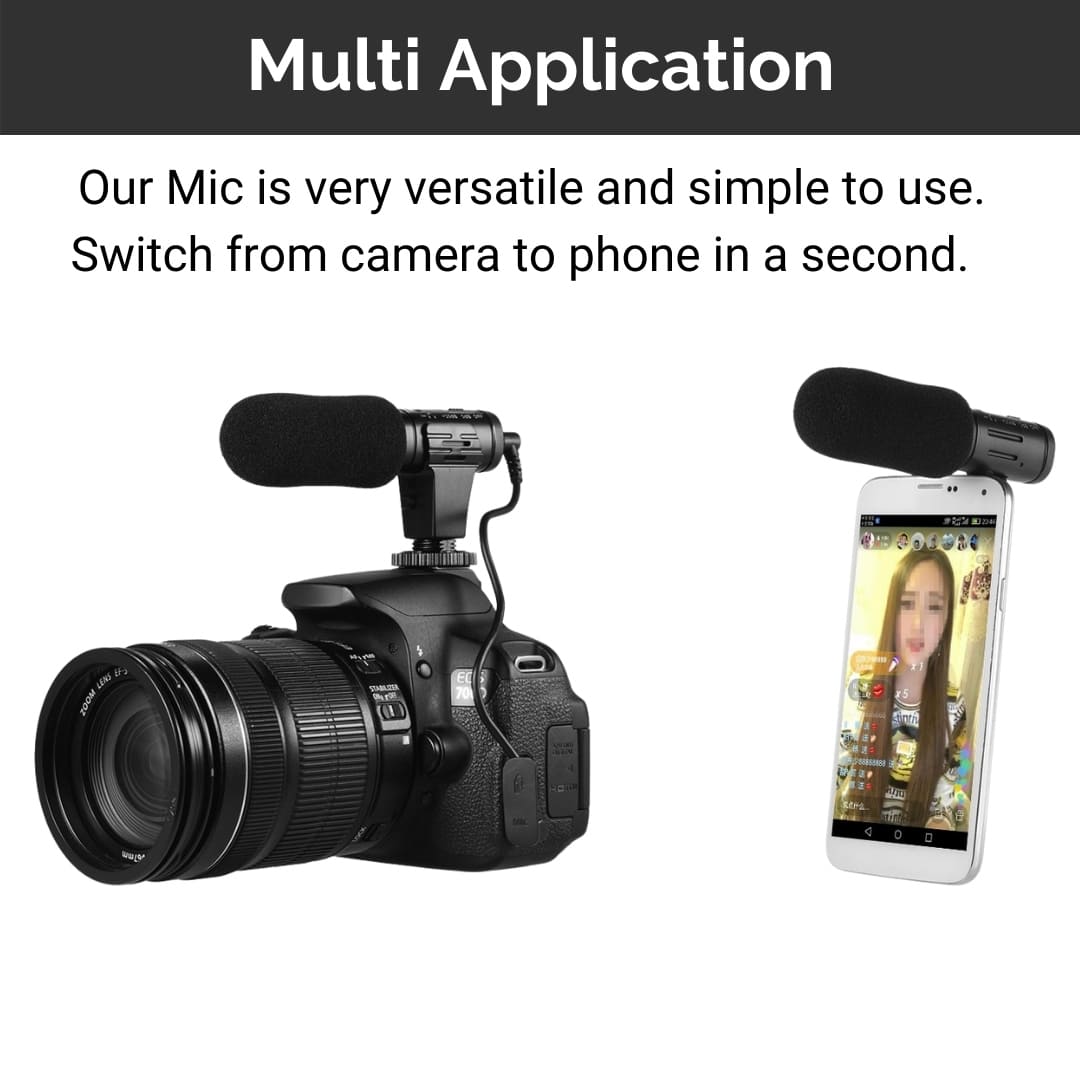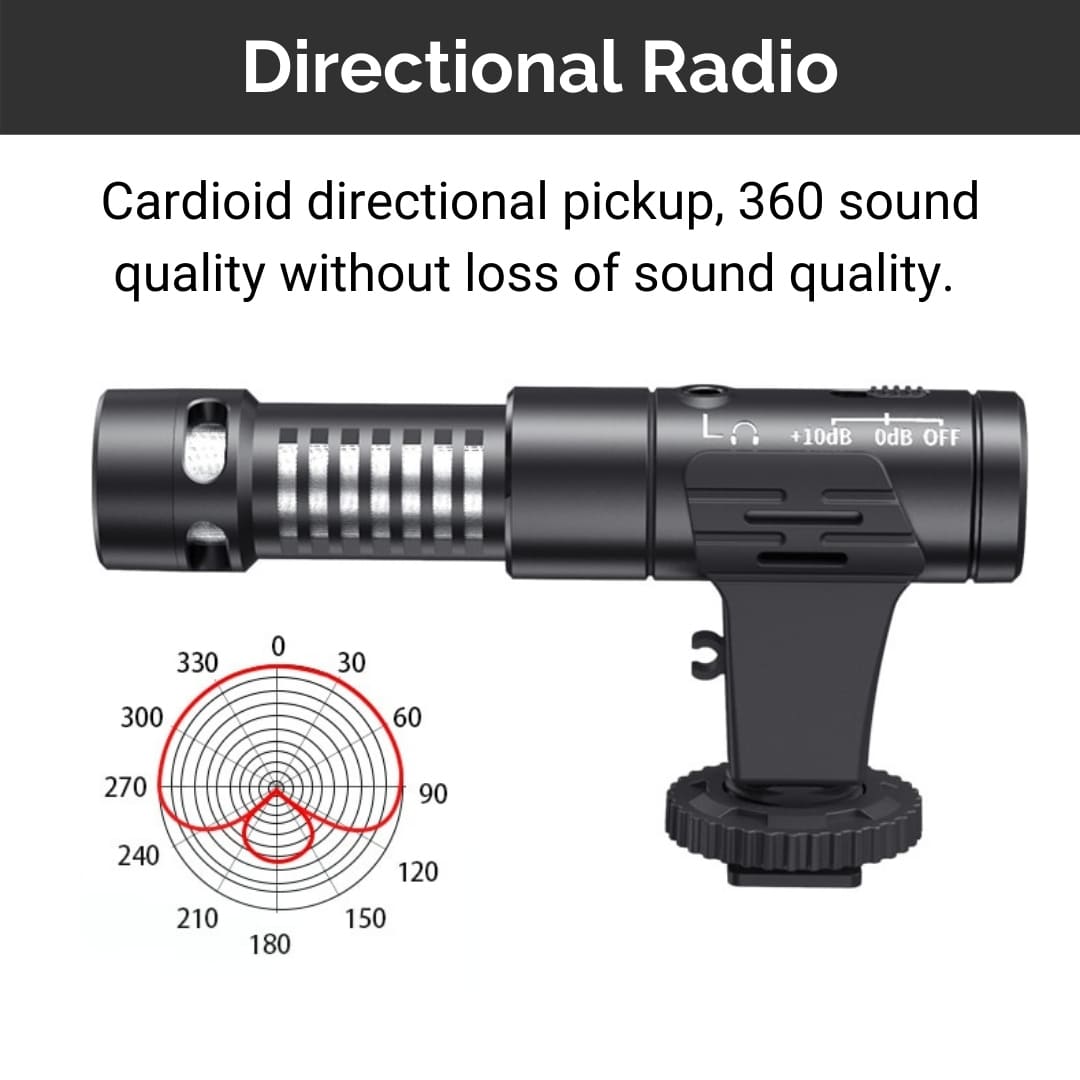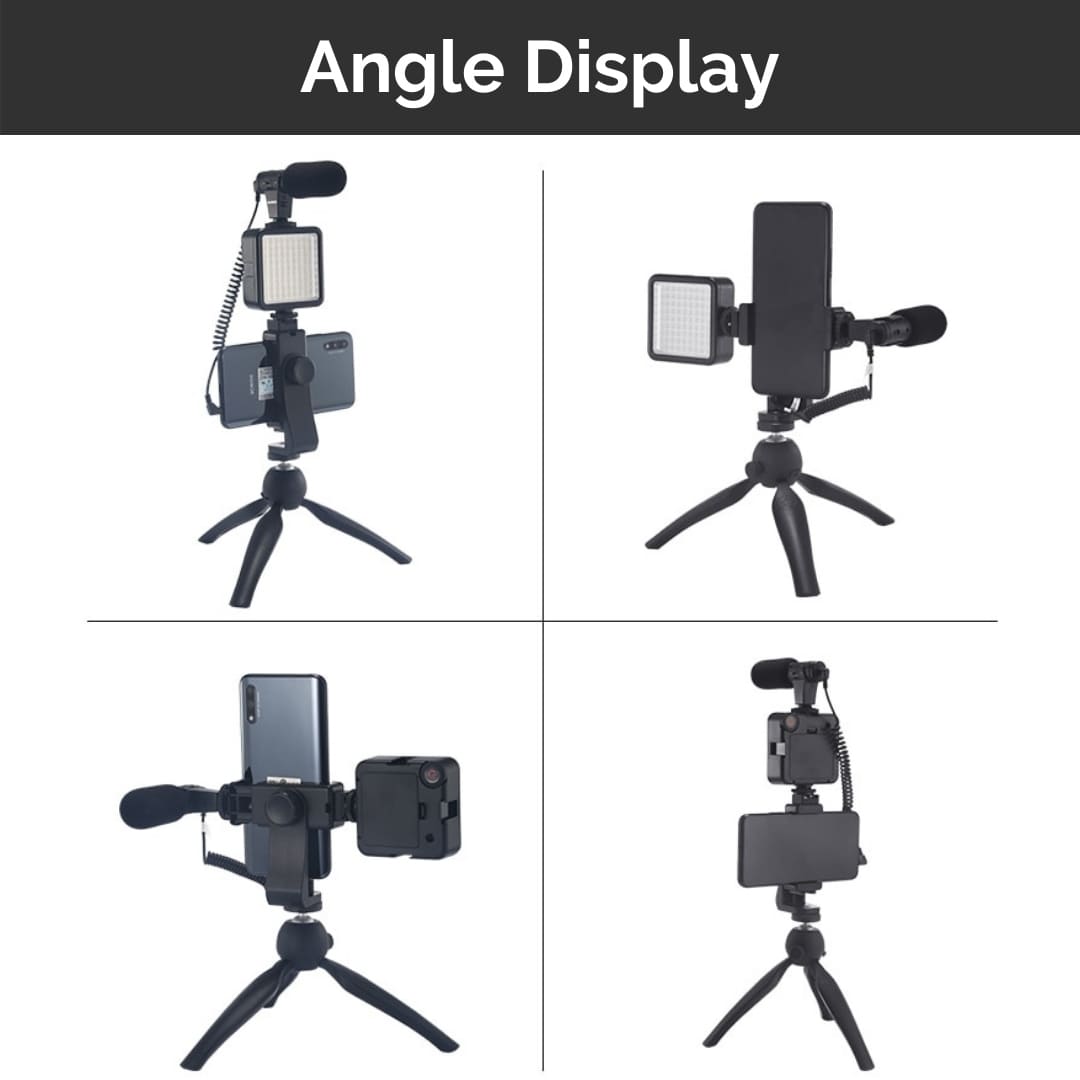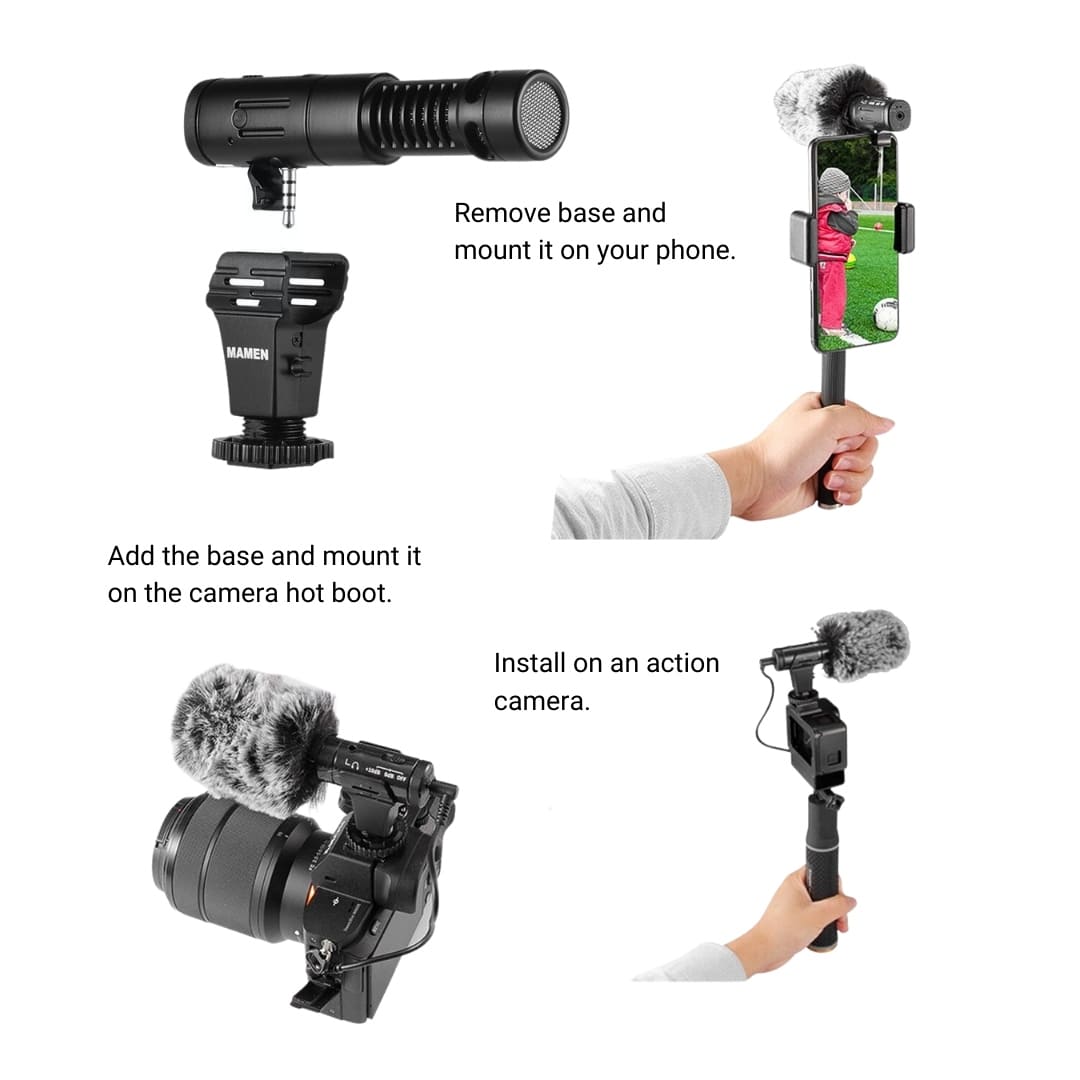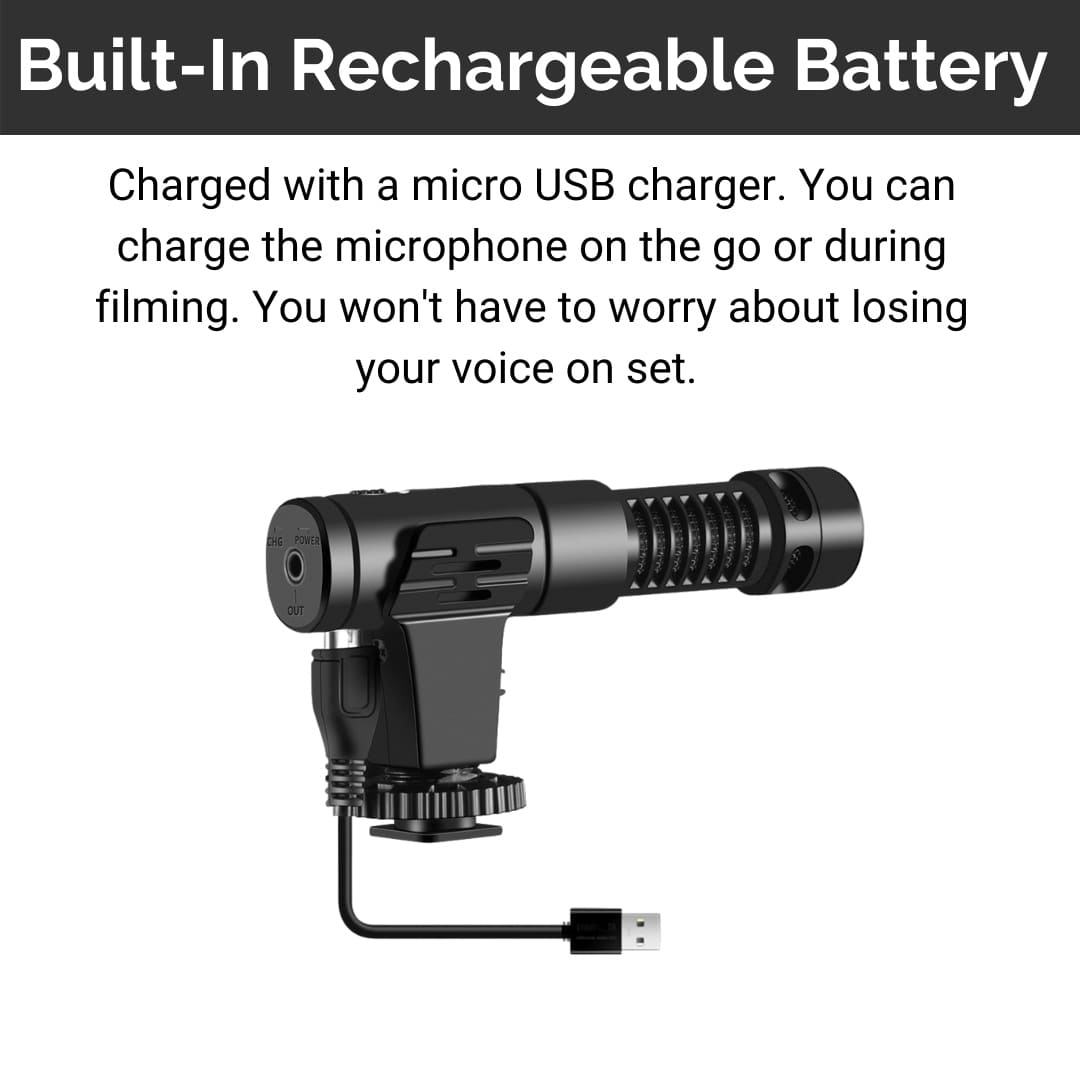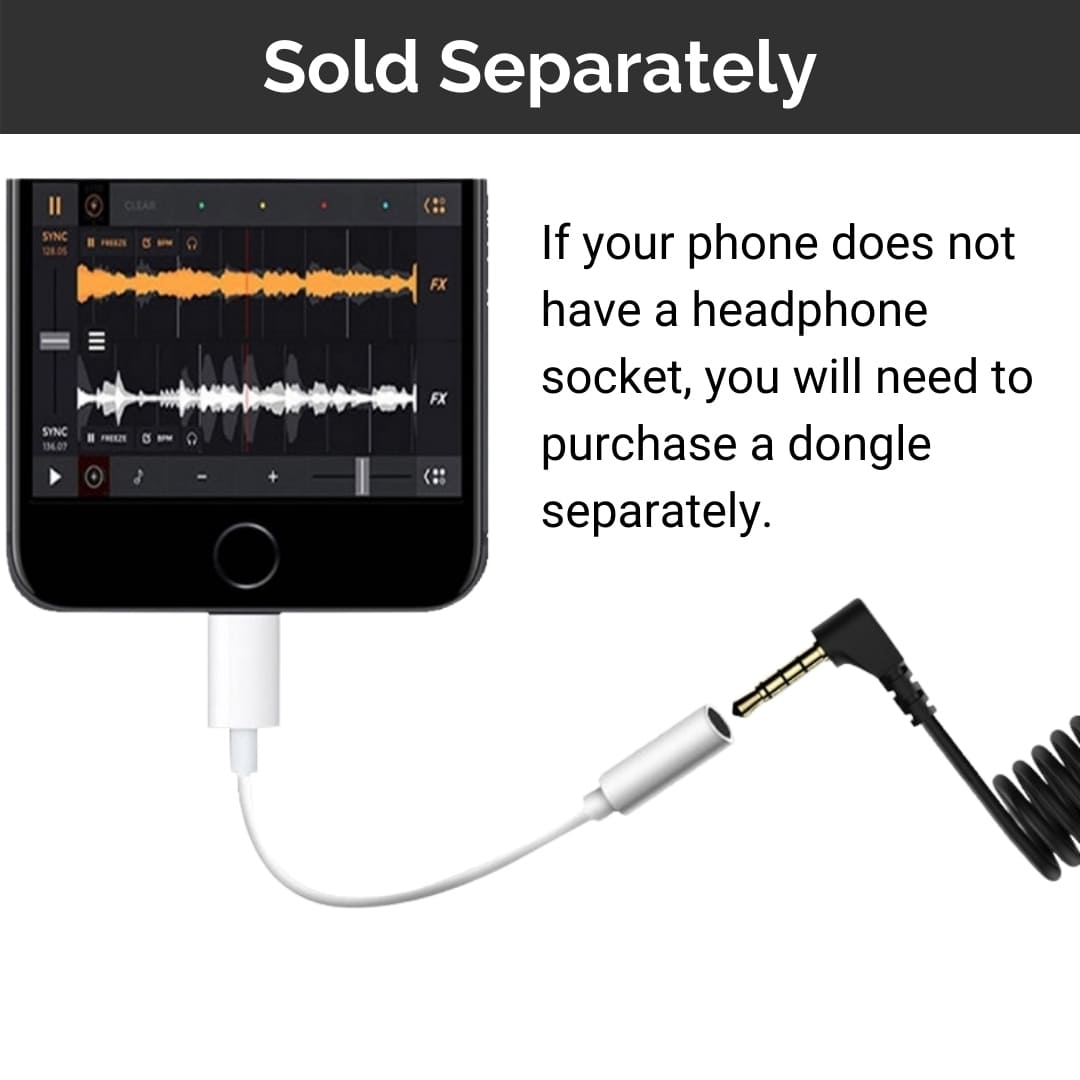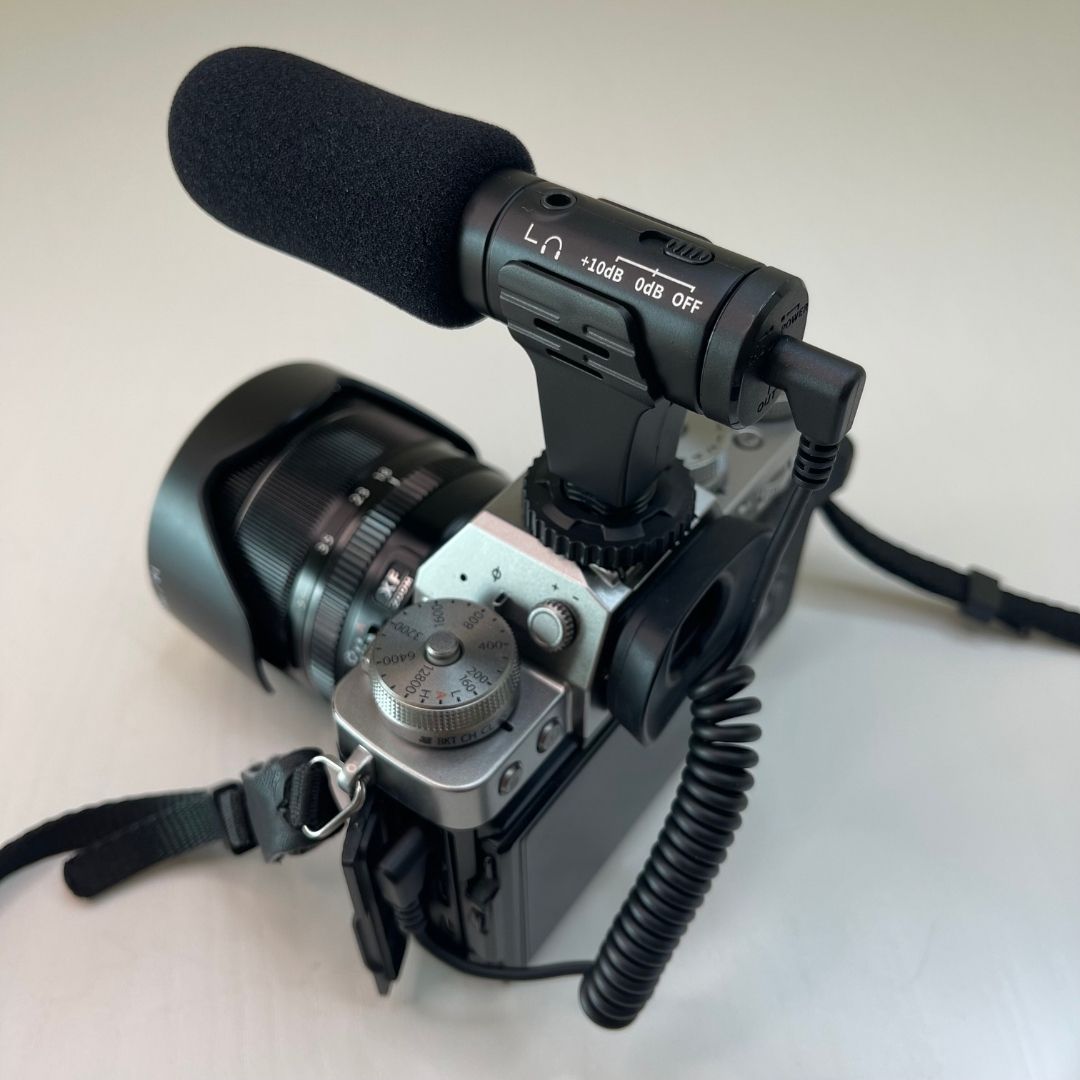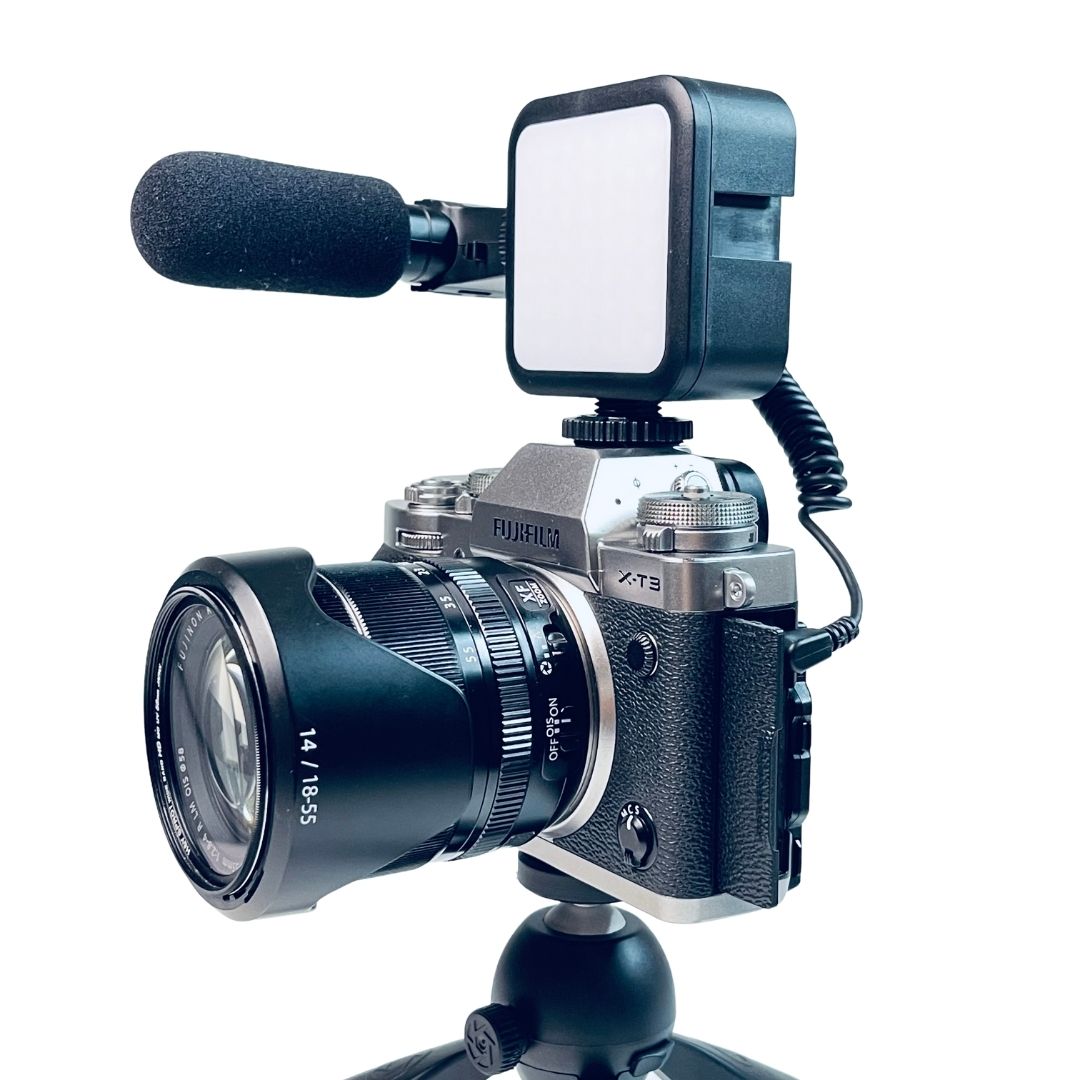 Product Details
Features & Details

✔︎ Professional audio playback - Listen back in real-time as you record like you are in the studio.


✔︎ 0 to 10db audio level - Adjust to find the perfect sound for your environment.

✔︎ Lightweight & versatile- Use our microphone at multiple angles and deliver natural, clear and crisp audio on your next video.

✔︎ Compact design - Attach it directly to your phone, our mini tripod or your camera and film whilst on the move.

✔︎ Travel friendly - Comes with a windshield attachment to muffle the noise for outside filming. Carry bag included.

✔︎ Multiple connections - Connect using a locking cold shoe or direct 1⁄4-20 that attaches directly onto an audio stand making this a hugely versatile audio solution.

✔︎ No batteries needed - Perfect microphone for mobile filmmakers.

✔︎ TRS (Camera) and TRRS (Mobile) cables -  Easy switching of the camera or mobile phone.

★ MFI-certified lightning or C-type to 3.5mm adapters are required for use with most mobile devices. iPhone adaptor sold separately below.
FAQ

➤ What phones does Misty support?
✔︎ Misty works with any phone providing you have the right attachment. For phones without a headphone jack, you will need a lighting or a C-type dongle. Please note that only MFI certified lighting converters will work on iPhone which we stock in store. We also have C-type converters available for Samsung and others.

➤ Does the Microphone pick up the background noise?
✔︎ You can adjust the sensitivity of the microphone between 0db and +db depending on your needs.

➤ My microphone is not working?
✔︎ Please check your phone cameras settings. Some native camera apps have a microphone setting that needs to be changed to external. You can also try downloading a third-party app. Please also check you have the right connector. Please message us if you are having challenges and we will help to troubleshoot.

➤ Will this work on an action camera?
✔︎ Yes, assuming your camera has a hot shoe attachment and microphone jack.
Tech Spec

➤ Monomer: Electrostatic condenser head
➤ Directivity: Supercardioid pointing
➤ Product Weight(g): 51g
➤ Frequency Response: 50Hz - 20KHz
➤ Sensitivity Enhancement: +10dB +/- 2dB
➤ Sensitivity: -38dB +/- 3dB
➤ Equivalent Noise Level: 24dB A
➤ Maximum Sound Pressure Level: 130dB (THD<1.5% @ 1KHz
➤ Output Impedance: 200n+30% (@1KHz)
➤ Battery: Built-in 3.7v 100mAH rechargeable lithium
➤ Size: 115x56mm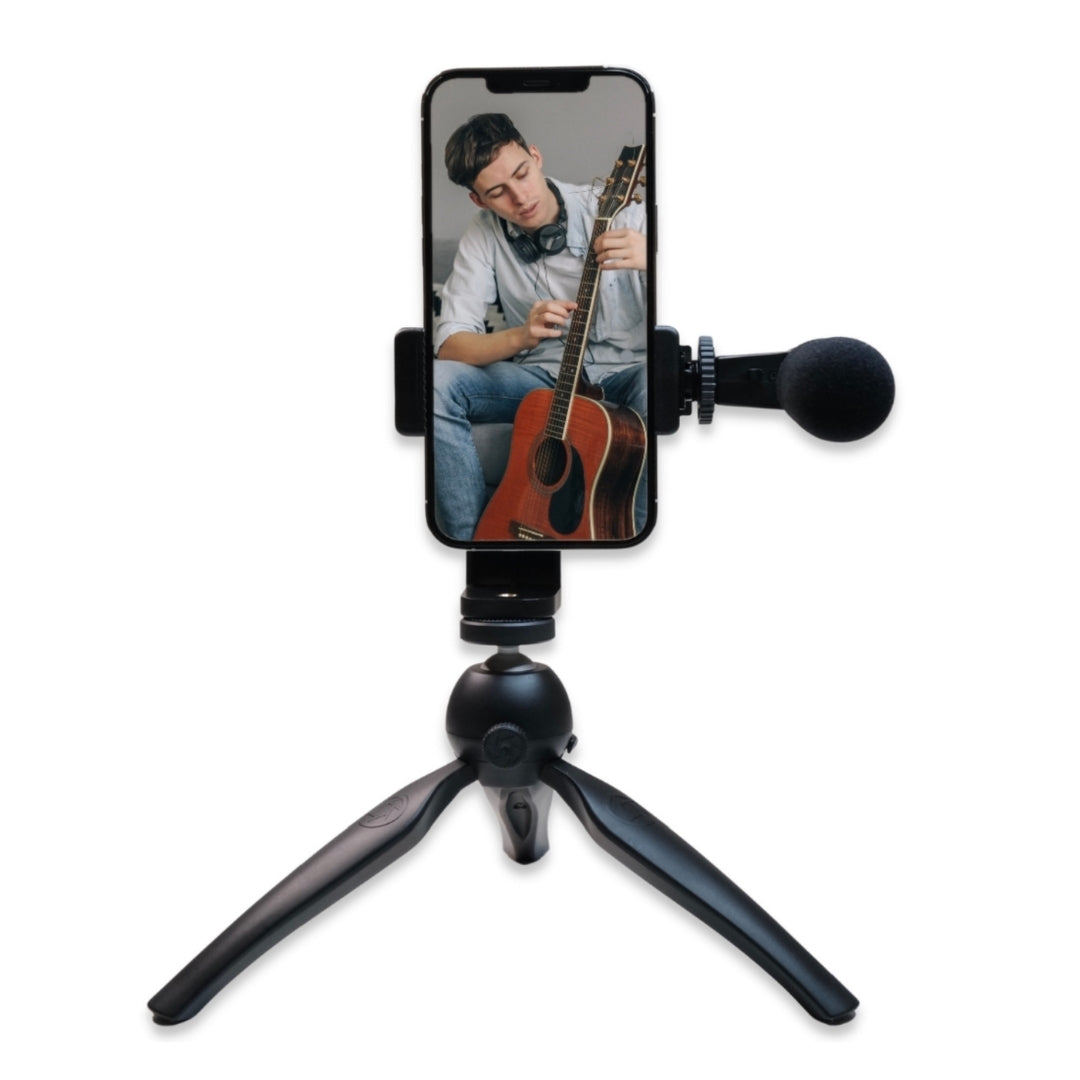 Audio Designed Mobile Creators
Our microphone is designed with a Super-Cardioid polar pattern that focuses audio capture on the subject and the user's voice while avoiding unwanted ambient sounds from crowds or the environment. With mobile class-leading wide range 50hz-20khz Frequency Response and 28db equivalent noise level.